Roofline Replacement & Gutters Repair Bearsden, Milngavie, West End Glasgow

Roofline & Guttering, Gutters, Soffit and Fascia Replacement & Repairs
We have over 20 years experience fitting new and replacing broken or worn property roofline in the Bearsden, Milngavie, Dunbartonshire and West End of Glasgow areas. If your roofline, gutters, soffit and fascia are showing sign of wear and tear or if they are leaking it's best you get them checked. Leaving old roofline to rot away can and will eventually cause roof damage.

We offer a Free quote service and all of our work is fully insured and comes with a guarantee.
Out with the Old and in with the New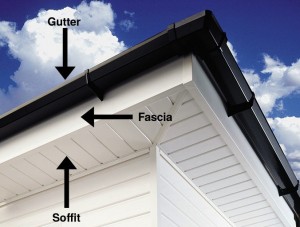 Your roofline is the most exposed and vulnerable feature of any property. It is extremely susceptible to weathering and hazards such as blocked gutters which can lead to rot and sometime major roof problems.
If you have timber roofline and it hasn't been touched for years you could in for a nasty unwanted problem. Forget about the costly replacement of rotten timbers and also the need for replacing these features every few years and of course the upkeep and maintenance of painting the timber. We have an alternative product that will be cost effective and eliminate the need to annual maintenance.
By removing all of the rotting timber fascia, soffit and guttering we can install our very popular uPvc option. We use only the best uPvc materials for our roofline so you can be rest assured that the product you get will last for many years to come.
It is essential to have the installation fitted correctly from the beginning to avoid any long term problems which can occur as a result of covering over the rotten timber. Our FREE Quotation will be thorough enough and you will be advised what is required and what is not.
By replacing your property's roofline you will have a strong and durable, attractive finish for your home and property.